"It's a time for students to look back with great pride about what they have achieved, and look forward with great anticipation about the careers they will have."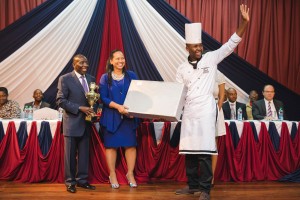 On 13th October 2017 the 8th Graduation Ceremony for ihti took place at the National Museum of Kenya for Higher National Diploma in Hospitality Management, Higher National Diploma in Culinary Arts and Certificate in Food and Beverage Operations.
Everybody was excited for the big moment they would receive their Diplomas from our Founder, Ambassador Mwakai Sio assisted by the Guest of Honour Mr Gerson Misumi, MD Tamarind Group and the Principal Mr Thomas Dudah.
"The proof of the pudding is in the eating", says keynote speaker Mr Gerson Misumi. This hospitality professional was thrilled to be presiding over the ihti graduation due to his immense passion for the hospitality industry. He delivered a highly motivational speech directed to students and inspired every person present at the 8th ihti Graduation. "I would like to appreciate and congratulate the management and staff of ihti led by the Principal, Mr Thomas Dudah for steering this Institute to achieving international standard of training as evidenced by the recognition given to the Institute by renowned hospitality training institutions worldwide. The graduates of this institute have been well accepted by the hotel and tourism industry. Furthermore, many foreign countries have endorsed the high quality of education it offers by enrolling their nationals to study here.
At the end of his speech full of advice for the future professional life of the graduates, he closed with a rather dramatic message "Put the phone down! Talk to other human beings, and when you do pick up the phone again, before you tweet or snap chat or Instagram, call your parents or call an aunt or go outside and do something that you will not be photographing or videotaping for social media. Connect with real people that know!"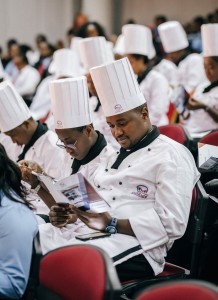 Each graduate deserved to be part of this great ceremony since they all have studied hard and gained valuable working experience during the industry training. After the ceremony, ihti graduates together with their families and friends, enjoyed the celebratory drinks and canapés prepare and served by younger ihti students probably dreaming about their own graduation.
This was certainly a day to remember and ihti wishes its graduates a future full of happiness, to accomplish all that is yet to be done and to have bright opportunities in their careers!