About Us
History of
ihti
ihti is a hospitality training centre committed to excellence. ihti was pioneered by five renowned hospitality education professionals led by Ambassador Mwakai Sio. ihti opened its doors to new students in May 2005, with an initial admission of only four (04) students. The institution rapidly gained recognition and fame and now has a total of over 250 students from 5 different countries.
---
Our Vision
The vision of ihti is to become the hospitality and tourism education and training institution of choice in Africa
Our Mission
ihti seeks to provide hospitality and tourism training that meets the highest international standards. ihti will strive to mould its students into credible and respected professionals and place them in highly rewarding and progressive career paths.
Our Core values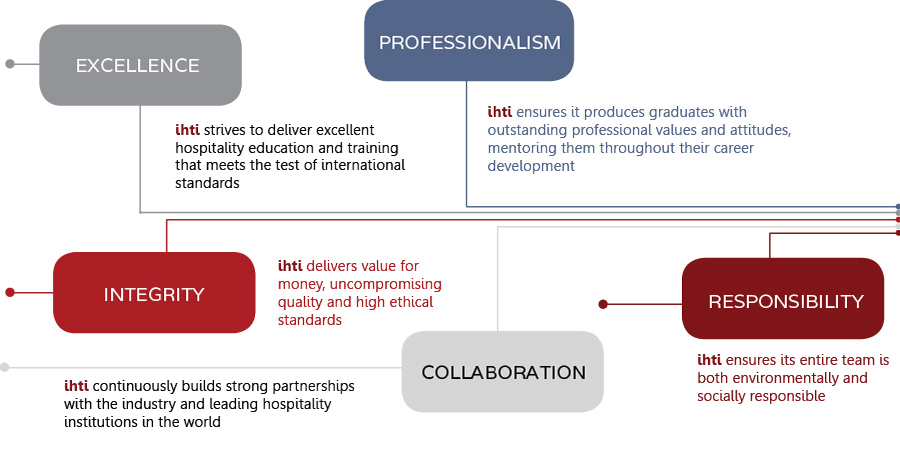 ---
ihti

Sister Companies

ihti students are very fortunate to enjoy the services of two other companies operating under the same roof
PIE International Education Services (PIEIES)
Worldwide Hospitality Education Network

The main function of PIEIES is to provide support to students wishing to pursue hospitality education in any of the quality institutions PIEIES represents. PIEIES experience in this industry allows it to prepare students as well as parents to make the vital cultural adjustment which is a key factor for an enjoyable and successful learning experience.

PIEIES is renowned for its ability to prepare students to engage in successful studies while overseas. We do this by assisting in every aspect, from preparation of applications for easier admission to compilation of supporting documents for visa requirements. PIEIES also supports graduates in their career development. Thus, PIEIES is the Patron of the very active Alumni of the schools it represents, in the region.
Email: info@pie-ies.com
Website: www.pie-ies.com
PIE Consultancy (PIE)
All Round Hospitality Solutions

PIE was founded by Ambassador Mwakai K. Sio, one of the leading experts in the hotel industry in Africa, assisted by a team of highly qualified team of associates. The PIE team includes leading hotel and tourism experts from Kenya and overseas. With its international contacts and wealth of internal human resources, PIE is ideally positioned to provide world standard planning and management solutions for the hotel and tourism industry.
Email: consult@pieconsultancy.com
Website: www.pieconsultancy.com
---
Join Us Today
We look forward to welcoming you to ihti.
Admissions